Thank you for your interest in Ongaro's Outdoor Outfitters hunts. Below you will find details on annual dates. If would like to speak with me for even further details, please call 1-800-465-6227.
Ongaro's Alberta FALL WATERFOWL Hunts
September 1 thru November 3
Sunday Arrival: Hunts occur Monday AM & PM, Tuesday AM & PM and Wednesday morning, departing Wednesday afternoon.
Wednesday Arrival: Hunts occur Thursday AM & PM, Friday AM & PM and Saturday morning, departing Saturday afternoon.
3 Day Alberta Fall Waterfowl Hunts– for Current Ongaro's Pricing
Ongaro's Alberta SPRING SNOW GOOSE Hunts
April 2 thru April 28
Sunday Arrival:

Hunts occur Monday, Tuesday and Wednesday departing Wednesday afternoon.
Wednesday Arrival:

Hunts occur Thursday, Friday and Saturday departing Saturday afternoon.
3 Day Spring Snow Goose Hunts– for

Current Ongaro's Pricing
Spring Snow Goose hunts differ from the fall in that the flight typically lasts throughout the entire day especially during any inclement weather common in the spring. Due to this, it is typical to hunt only one time per day but the hunt will often carry on well into the afternoon. Quite often the geese will roost in spring flood water during the day and will not leave the field allowing us to get underneath them for an afternoon hunt. This does, however, give us more time to spot the birds (while you are hunting with an Ongaro's guide) and put you on that critical "X" the next morning. Only when warranted we will attempt to hunt the afternoons. If we have to make a move to get you under birds, we certainly will do whatever it takes to ensure a quality hunt!! These are not traffic hunts. Hunts are spotted each day to make sure birds are actively using the field!!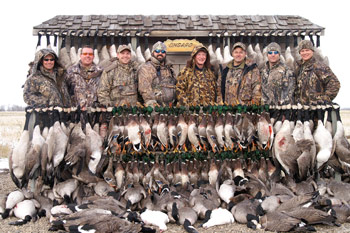 Hunting Licenses $210
Shotgun Shells – range from $17.50 to $35.00 per box. (ammunition is kept fully stocked at the lodge and there is no need to pre-order)
Bird Processing is $3.75 per duck and $4.50 per dark goose and $2.90 per snow goose.
Liquor
Gratuities
5% Goods and Services Tax
Airfare
Deer Hunts (Whitetail & Mule Deer Archery & Rifle Hunts)
6 Day Deer Hunt Package available. Call or email for Package Pricing
Our six day rifle deer hunts are conducted commencing September 17 and run through to the rut in mid November. Call or email for actual hunt dates.
Deer hunting the foothills in September and October allows us to capitalize on the stable nature of the herd and the docile consistent feeding habits of these mature virtually unhunted bucks. We can target specific bucks we have carefully scouted as they are not on the move nearly as much as they are during the rut. November 18 is peak estrus at our latitude. During this time the dominant bucks must travel the heavily wooded terrain continually to contact estrus does. This make the wisest and oldest of bucks vulnerable to our method of hunting. We hunt from portable, yet heated, tower blinds at known crossings and travel routes.
Archery Velvet Antler* Hunts - 6 Day Hunt Packages available. Call or email for Package Pricing
*Velvet can be peeled at this time of year to expose beautiful hardened antlers.
Our six day archery hunts are from 

August 25 – 30

.



Archery Velvet Antler Hunts are conducted in late August whereby we can take advantage of the relaxed summer feed pattern the big bucks are in. It gives me and the guides the opportunity to monitor trail cameras throughout the summer and keep an eye on antler growth. This allows us to select particular bucks to hunt without having to worry about changing feed patterns or about them leaving their home ranges in search of does.
The cost of your deer hunting license is approximately 

$370 US

. Your license will be pre-purchased and awaiting your arrival at the deer camp.
Your trophy deer hunt commences in Edmonton. From here you will be given directions to our secretly kept location and make the three hour drive west to our hunting area. Due to the varied length of deer hunts because of tagging out and heading home, deer hunters be responsible for getting to and from the deer camp on their own which approximately 3 hours west of Edmonton. Directions will be provided after a contract has been signed.
Once you have engaged the services of Ongaro's Outdoor Outfitters we will look after the fine details and paperwork for your trip. Should you require any additional information, please do not hesitate to call our toll free line at 1-800-465-6227 or email us.